Overwatch Betting: Where and How to Win?
Overwatch bet is a relatively new affair compared to older, and more established games like betting CS GO or Fortnite betting. Overwatch betting has a lot of scope for future, given the traffic it has managed to pull in just 2 years of its launch. Overwatch wagering is available only on limited sites for now, but it has a lot of expansion potential. Users can use real money to place a bet, and you need a lot of information, knowledge about game, modes and arena, to get the betting odds in your favour.
The players who are new and beginners in esports betting, can also use virtual or play money to place bets, but seasoned wagering enthusiasts can use real money to get greater outputs. Players can either bet on fantasy or wagering in Overwatch bets. In fantasy betting, you can bet on a player – the better the performance, the higher your returns. In wagering, it is more like traditional betting where you can place bets on teams and based upon performance or final match result (winning or losing) of entire team, your return will be decided. There are many sites where you can place your bets, but Betway and Buff.bet are the best Overwatch betting sites. Moreover, there are some sites you can also use for Overwatch betting. They are:
GG.Bet;
CyberBet;
Unikrn;
Pinnacle.
As currently, a lot of Overwatch tournaments are free to participate in, hence there is a lot of scope for even newbies who want to register and try. Tournaments invite players across the globe to place bets, which makes overwatch betting arena, comparatively volatile than other established eSports.
Before you decide to go ahead with Overwatch esports betting, you must familiarize yourself with game first, and this review is there to help you do exactly that.
Overwatch Game Modes

Being a first-person shooter game, Overwatch is one of those games where you will find multiple game modes. It can be played both on a console or a PC, which provides it more visibility and accessibility for the players. Different platforms allow different players to interact and come together for a tournament. There are four main game-modes in Overwatch that you can choose from, and they are:
Payload: In this mode, attackers must move a cart (payload) to the point of delivery, and speed of delivery cart depends upon number of heroes in the vicinity of the map. Defenders or opponents must prevent attacking team from making cart reach the destination. This mode is also called 'Escort' mode.
Assault: In this mode, both teams must claim and defend a capture point on the map. If you have played Battlefield series, you will find the assault mode in overwatch, very similar to that.
Hybrid: This mode is a combination of both – Assault mode, as well as Payload mode, that is why it is named 'Hybrid' mode. Teams in the first half should battle for capture points, and in the second half, they need to move payload. Game-mode switches between assault and payload to maintain the interest of the teams.
Control: In this mode both teams battle for an objective area. There are a total of three matches, and best of three is winner of game. The map has different areas in which the teams can stand and claim that area as their own. In different rounds, there are different objective areas in the map.
Overwatch Heroes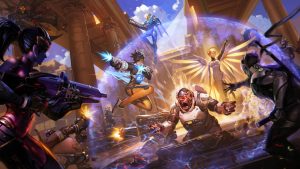 Instead of using classes, there are proper stories behind the introduction of each character in the game. In overwatch, the characters represent a story, and their powers and abilities are justified based upon the story they narrate. This makes the game even more interesting and relatable.
There are total 34 heroes to choose from, and the heroes are divided into four main categories in which various characters are divided into:
Offence: Characters that belong to this category are the ones that cause most damage in the game. They take out important heroes from the opponent's team and are strong, fast and flexible. Being quick in their actions, helps them to remove a lot of opponents from the game in a short time.
Defence: This category represents heroes that are given the task of placing mines and turrets in high priority areas in the game. They also give support to tank and offence heroes by backing them up.
Tank: This category is one of the most important in characters of Overwatch, as the heroes from this category are not only extremely powerful but also capable of holding ground for a long time. Their high survivability helps them to stay in the game for a long time.
Support: As the name suggests, heroes that belong to this category help other team members to stay in game. They help them achieve their goals and add sustenance to the team.
There are several other traits in the game that make it a popular choice among people to play. Being a first-person shooter game, Overwatch is heavily popular because of various other reasons, and some of them are.
What Makes Overwatch Unique?
A major popularity reason for overwatch is its uncanny similarity to League of Legends (LoL). The way the concept of the game has been designed, it is mostly similar to League of Legends, which reduces the learning curve of the game.
Apart from this, Overwatch has invited those players who were not serious about multi-player online battling arena games (MOBA) and were already indulged in eSports like Counter Strike. It became easier for those players to switch from CS:GO to Overwatch.
Another solid reason behind the popularity of Overwatch is the ability to change heroes during the match. Not every first-person shooter game provides this flexibility to the players, but in Overwatch, you can switch characters and change heroes in the middle of the match to get them to work for your team to the best of their abilities.
Overwatch is both – about team-work, as well as individual performance. Both of the factors matter a lot in deciding the final result of a tournament.
Betting Strategies In Overwatch
The tournaments for Overwatch are not as much, or as frequently organized as the tournaments for other, established eSports. Even the prize money for Overwatch is much lesser than for Dota 2, League of Legends etc.
But there are betting strategies that you can follow to increase your Overwatch odds in the betting-scene and gain a good amount of money from wagering in Overwatch. Before you decide to throw in real money, you should research about the Overwatch players who have formed a team – what languages do they communicate in, how long they have been playing together etc. So that you can form an idea about their abilities and can predict their performance.
Since there are many 'best of one' matches in Overwatch, hence you must be careful and sure about the bet you place. In best of three or best of five, there is still a chance that a team that is performing poorly in the beginning, might gain an edge with time and also emerge as the winner, by the end of tournament – but best of one matches are more ruthless and brutal in nature. They do not give you time to figure out the Overwach odds, that is why you must be sure and definitive about your choice.
There are many Overwatch esports betting teams that make mistakes but regain their momentum by other rounds, but even a small, minor mistake in Overwatch can lead to a snowball effect and make it difficult for the team to make a comeback.
There are many other factors that are responsible for winning a bet in Overwatch. Apart from the factors discussed above, the composition of the team, their geography also matters. If they are travelling for the match, their performance might suffer, and they might lose from the home-team.
Korea-based Lunatic-Hai is the best team as of now in Overwatch world-wide. They are followed by American teams named 'EnVyUs and Rogue'. While the performance of EnVyUs has degraded since 2016, Rogue has won many tournaments and matches and is the main contender for Korean Lunatic-Hai.
---