Team Liquid made a collab with Marvel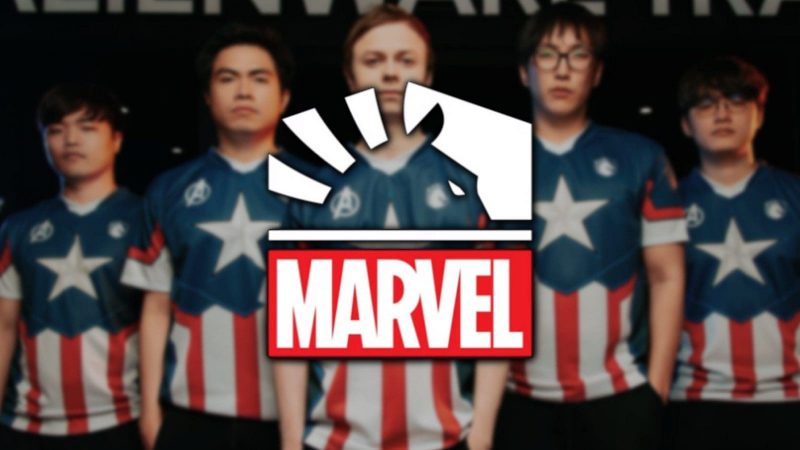 Team Liquid, one of the world's leading esports organizations, signed a contract with Marvel Studios that will hopefully bind the world of heroes and online gaming together.
North American esports giant that supports teams in numerous esports disciplines including CSGO, League of Legends, Super Smash Bros, and many more signed a partnership with no other than Marvel Studios. The partnership is up to assemble the might of the Avengers, and the popularity of the esports starts in a massive merchandise project.
The new merchandise has been presented this year during the iteration of Rift Rivals when the members of the Team Liquid team entered the stage in Captain America style t-shirts that looked exactly like Cap's uniform from the last installment of the Avengers. This event has become the first announcement of the collaboration. Marvel Games also posted about this project on Twitter soon after.
Team Liquid released a video that showcases their players from different parts of the world wearing Avengers inspired uniforms. This video demonstrated the new merchandise as well as some of the prominent moments in the history of Team Liquid. Stunning outfits inspired by the Avengers Endgame film will surely become a hit among the fans of both Team Liquid and Marvel.
The video itself was nothing but a spectacle. It revealed the Quantum Realm uniform inspired t-shirts and showcased the players mirroring the epic scene from the Endgame film. Team Liquid has made a great move by signing a partnership with Marvel Games, and it will surely translate into increasing the popularity of the csgo bet as well as other titles. Marvel Games too will benefit from the cooperation with the large esports company considering the upcoming Avengers Game project.
And once we though all of the exciting staff were over, one of the players came to the stage holding a Captain America shield. That was a mind-blowing moment for all the fans. Paired with the Captain America uniform, that shield was like the final blow the fans who still hesitated whether to buy the merch or not.
You might be wondering why would Marvel sign a contract with the esports company. Well, the thing is that Disney, a parent entity that holds Marvel, is very interested in infiltrating into all the possible forms of entertainment, and esports are becoming increasingly popular among players around the world. That is why Disney is aimed for expanding its influence in the world of virtual entertainment. Now, we would not be surprised to see more of such exciting collabs between Marvel and gaming studios.
---