Overview: Thunderpick CS:GO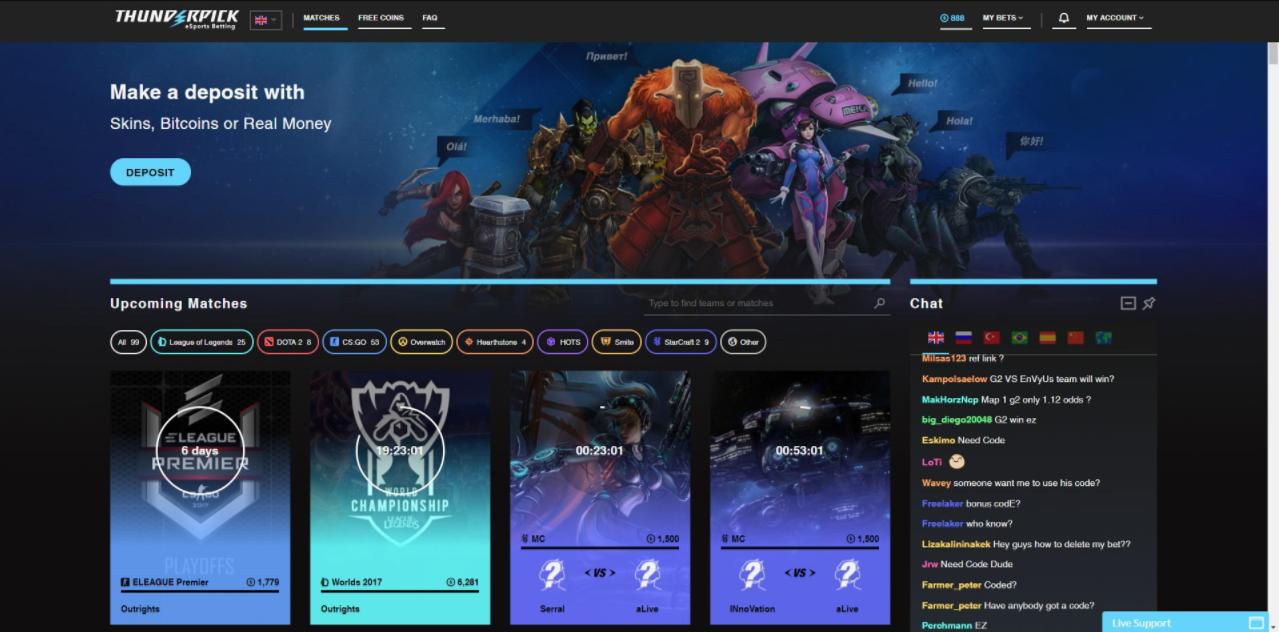 Thunderpick is an eSports platform focusing giving bettors many gaming options. It is unique in its own way in the sense that one does not wage against bookies or banks, but rather, against each other. It focuses on professional events and thunderpick csgo matches. On this platform, you also find other popular online games like Dota 2, Overwatch, and League of Legends among others.
How Good is the Platform?
Those who wager their money on eSports always prefer sites that are both attractive and greatly designed, which brings to the fore an important question. How does Thunderpick rank in this regard? Well, the layout is appealing, and the navigation buttons are clearly displayed so that even someone who is new to eSports betting will find their way around easily.
A click on any event pulls up information such betting options, kick-off times and games in the near future. It is therefore easy to pick a game and wager on it with great ease and convenience once you have signed up. The layout is more intuitive and appealing when you compare it with other eSports platforms.
Signing up at Thunderpick CSGO
With more people showing interest in thunderpick csgo, another question that quickly comes to mind is the process of signing-up before one can start playing. Well, the site is popular among bettors not only because it looks cool in general, but because the sign-up process is one the easiest and fastest you can ever find on the internet. Just fill in the basic information, and you are ready to get started.
Thunderpick is a registered website providing gamers with clear rules of playing, not to mention that it is objective and provides fair information. You will need to provide proof of legal gambling age and identity before withdrawing winnings, something which is stated clearly in terms and conditions. New sign-ups attract lucrative promo codes and bonuses which help boost your odds when placing a bet.
Wide-ranging Games and Types of Bets
The next concern is the games you can wager on, and the types of bets. According to the information available on the official website, a user can begin to play with bonuses, and thunderpick csgo is the most popular to start with. CSGO provides bettors with markets such as waging on the possibility of a bomb getting planted, a team winning pistol and AWP flag occurrence.
Other types of games are League of Legends, Smite, Overwatch, Dota 2, HOTS, Hearthstone, Starcraft and many more.  To start playing, you click on a given event so you can choose a game on which you want to bet. Those who wish to play League of Legends have options such as the first team to score, tower destruction and more.
On the flipside, the platform has a limited number of games, which is why most bettors prefer other platforms that have wide-ranging options to it. But, it is noteworthy that things will get better as eSports betting gathers storm in this age of information and technology.
Is Customer Service at Thunderpick Good?
The website has a live chat button which is a plus. However, if you do not get an immediate response to an urgent query, you can always use their social media accounts when if you need any help. Another way to contact customer service is by filling the Contact Us email query form on the site.
Winnings, Deposits, and Payments
When choosing eSports platform, consider the mode of payments, deposits, and withdrawals -those are the most critical aspects of any such platform. Well, thunderpick is popular for its numerous money transaction channels available for the clients in this regard. There is Bitcoin (BTC), Skrill, Neteller, Visa, Paysafecard, WebMoney, AllPay, and CSGO skin bet options.
---