They do belong here. Successful women in cybersport is not a myth anymore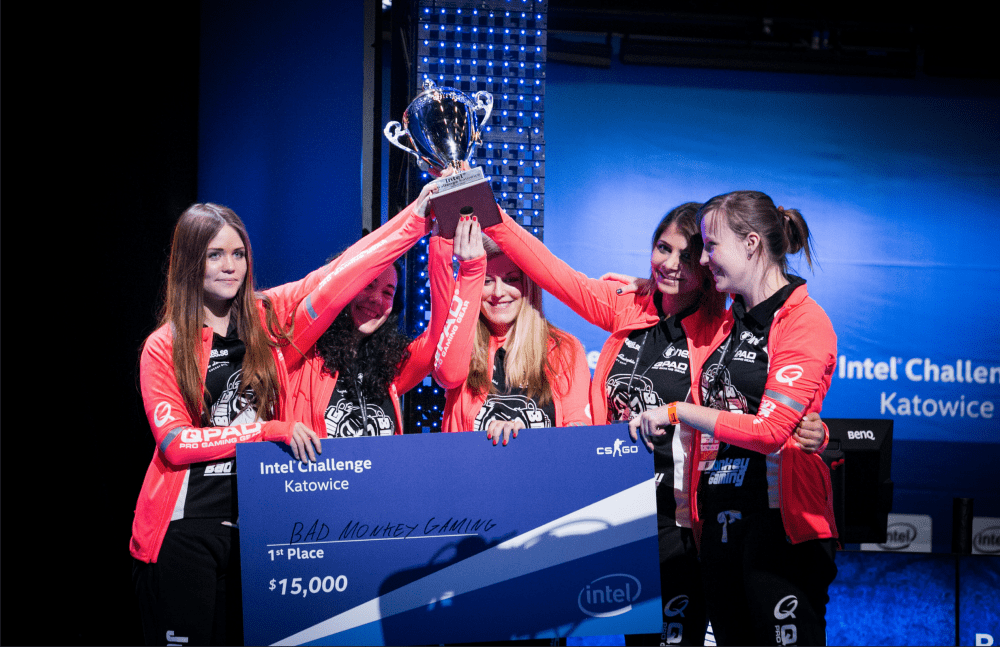 Maintenance of professional associations and management of multimillion budgets now got brand new female representatives.
Another scandal with the fake Ellie account in Overwatch League hit the media at the beginning of 2019. This questioned female participants having a place in cybersport and encouraged players to bet on esports again. At the same time, Dot Esports presented an impressive set of interviews with experienced women-gamers, who have already succeeded in the niche and proved their professional excellence. Below you can find four cases of women who entirely changed the way of running the cybersport organizations.
Better than NHL
"I always wanted to come with something fundamental and make history. NHL would make me work my way from the bottom, and I would move at a slow pace," Joy Chao says. She prefers wearing a baggy purple sweater over the formal clothing even though working as a marketing director of the Los Angeles Gladiators Overwatch team. Whereas Joy's career path has been lasting just two years so far, OWL titles her as one of the most influential and innovative media specialists.
NHL was Joy's primary goal as she could see herself doing marketing in this field. She tried to become a part of the "Los Angeles Kings" team and even did tremendous work on researching the target audience of LAK and determined the things to be improved about their marketing strategy.
The only thing Joy missed was establishing professional connections. That's why the work on this project didn't pay off. Still, one of the professors recommended her to the Phoenix1 CEO, who happened to be an alumnus of the same university. "I woke up and found a jillion e-mails related to cybersport, which I didn't have a clue about before. So I gave it a try," Joy mentions.
After Phoenix1, she started a fruitful career at Overwatch LA Gladiators. Today, Joy is the head of logistics and marketing departments, which makes her responsible for the schedule, production, and public relations. This work will never get boring as it implies dynamic professional development and communication with the team fans.
Not a regular psychologist
A cybersport psychologist is not a new phenomenon in gaming. Summer Scott started her career in Counter Logic Gaming and made her way up to the talent acquisition lead manager, which means way more than the standard psychologic support of the cyber-sportsmen.
Summer calls herself a team problem solver. She deals with a wide specter of issues the gamers face regularly. "I closely watch their regime and diet, try to encourage choosing a suitable kind of sports activity," Summer says. "The biggest challenge for the team, however, is the issue of financial awareness. These 18-year old guys make big bucks today; how will they survive outside of the gaming world?"
One day, Summer saw a piece of European LCS, which explained all the nuances of cybersport psychologist's duties. Weldon Green was the first person Summer found online and the first person whom she contacted regarding the job. Their cooperation started with a task to write a blog post and then went into coaching together. After numerous boot camps and training, Summer was finally ready to substitute Green when he was gone, which meant her first significant achievement in the playground.
Another valuable accomplishment for Summer was overcoming sexism in the team. Her skills as a coach were somewhat underestimated; she basically couldn't affect the team without having a decent authority. "It was hard for them to see the results of my job," she mentions. Summer didn't quit as she knew: everyone needs support even though they are not asking for it. "I had to overcome multiple problems by myself. I don't want anyone to experience the same".
Cybersport & Law
Christa Hinner has always been a huge fan of computer games. After graduating from a law school, she tried to work on two separate jobs: as labor law intern and cybersport tournament staff. Later, she found that there is a single vacancy, which would allow her to combine gaming and law.
ESG Law is the first law firm that is focused on the cybersport only. It means that Brays Blum, its founder, selects his employees relying on their qualification in both areas. He noticed Christa on one of the tournaments and offered her a position in the firm.
Nowadays, Christa is a leading cybersport lawyer in Overwatch League; she controls gamers' contracts and assists in making the deals with Cloud9 and OpTic Gaming. The most threatening challenge for Christa is teaching her clients to read the contracts thoroughly. Solving the gaming cases would be a burden in this situation as there are not that many precedents in the niche in general. Another aspect, which differentiates cybersport in terms of law is that every game played belongs to its creator, which involves another set of intellectual property regulations.
Christa's unique mission in the field of cybersport law is to manage diversity committee. This is how she encourages the equal number of men and women of multiple races to get an education in law school and build their career in gaming. "Unless we see women on the top positions, we don't notice the ones on the bottom" Christa comments. "Be Valiant" launched a forum for its female players, which means a lot for those who want to continue their professional path in gaming."
From streamer to CEO
Trisha Sugita has been playing games since a kid when she was competing in Nintendo with her brothers. After school, she started working as a sales manager even though not feeling much passion for this tedious job. After her dad died, StarCraft became a way to manage depression. Trish created a Twitch account, started the regular streaming, and organized a dozen tournaments for StarCraft and League of Legends.
When Azubu came into the light, Trisha was invited as a community manager. This was an opportunity to integrate her gaming talent into a well-paid job connected with her previous experience. "I was working in sales, establishing partnering relationships, and strategic development.
In a couple of months, I became a global director of the cybersport department in Azubu," Trisha says. However, a 16-hour working day had a distressing impact on her health; consequently, she joined the Immortals. By the way, their famous contract with AEG Worldwide is the result of Trisha's management skills.
Today, Trisha is famous for being as a CEO at FlyQuest, which makes her in charge of sales, marketing, finances, and PR. She strives to be an example for her employees and encourages them to contribute to company development. "If I didn't get something – at least I tried. Regret nothing" – she adds.
Conclusion
That's true that women in cybersport are still thought of something exotic. Still, their excellent score and professional success prove that talent has no gender. By including women into the cybersports team, one will prove that there's nothing impossible for ambitious and enthusiastic professionals.
---